The force that brings you

peace of mind
The time of true safety and profitability is here. Rambooms XROCK® breaker boom automation system optimizes the mine's processes in a responsible way and gives you the time to focus on anticipating and developing your business.
Innovation
that drives

true value
The mining industry is under revolution. Driven by safety and economic incentives, demand for increased automation and more intelligent systems is ever growing. XROCK® helps you get the best possible value from your business in a responsible way, and it gives you something that's crucial for creating true value – peace of mind.
Peace of mind
XROCK® helps you optimize operations to the maximum level. The risk of error is reduced, and you can trust that the working environment is safe and productive. When everything works at the optimal level, not only are idle and downtime minimized, but also the capacity to efficiently schedule work, anticipate the future, and proactively work towards developing your business grows.
Truly safe working environments
Minimize idle and downtime
Increase availability
Easy installation and full scalability
XROCK® lets operators control everything ergonomically from the safety of a control room. The XROCK® system itself is specifically designed to be user-friendly: it's easy to learn and intuitive to use, so users will quickly get acquainted with productive work. Boom operation, management and diagnostics are available straight from the control station.
Easy to install, learn and use
Naturally accessible controls
Maximum workday efficiency
Ergonomic and comfortable
Why complicate things? We make purchasing XROCK® "one step less" for you, so you can focus on your business. All XROCK® Platforms are made flexible and scalable to the mine's current and future demands. As your business grows and develops, we'll deliver you readily available solutions straight from the shelf.
Fully scalable to mine's comms network
Minimize idle and downtime
One step less in purchasing
XROCK®
Platform
XROCK® Platform is an advanced tele-remote and automation system for breaker booms, which combines hardware and software to provide excellent performance now and in the future. XROCK® Platform consists of two types of subsystems: Operator Station and Boom System, which support multi-operation and are fully scalable to the mine's needs.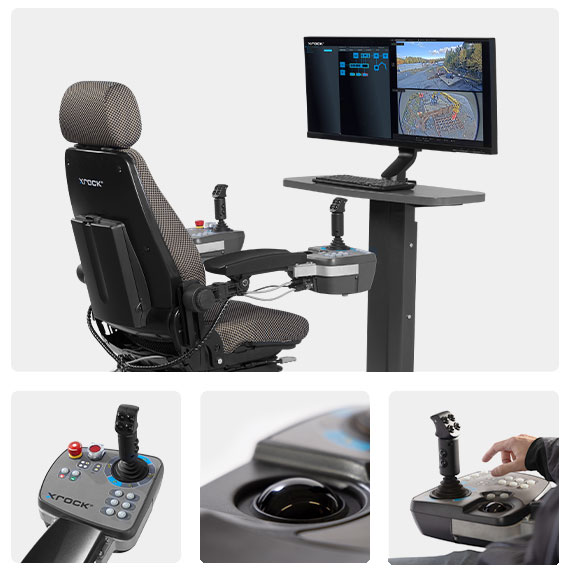 XROCK®

Operator station
Installed in the safe and comfortable control room, the operator station provides an ergonomic and efficient working environment for the boom operator. Accurate, intuitive controls and good ergonomics prevent fatigue and help maintain maximum productivity.
Ergonomic and intuitive control panel design with all critical boom control functions directly available.
Comfortable chair with versatile adjustments ensures good working ergonomics for every operator independent of their size.
High-resolution 34" curved monitor with optional audio.
System Controller manages the remote connection between Operator Station and Boom System over the mine network.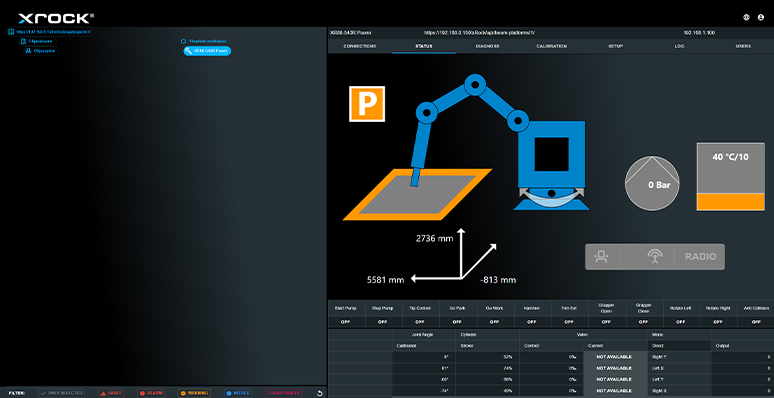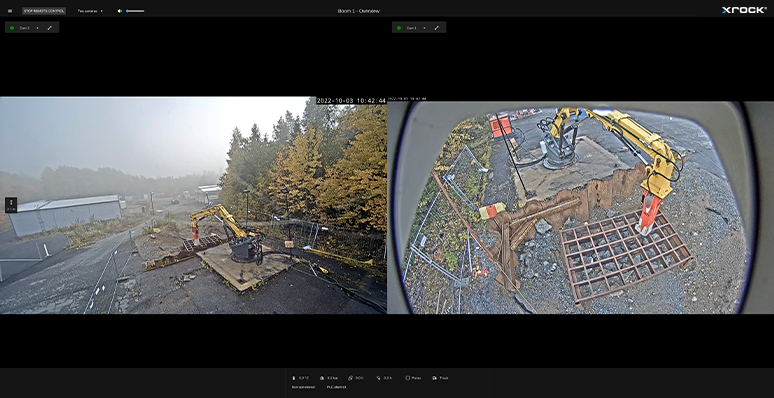 Software
XROCK® Boom View
The primary user interface for the remote boom operator includes two viewing modes – control and surveillance.
XROCK® Boom Manager
a comprehensive configuration and diagnostics tool for all XROCK Platform systems.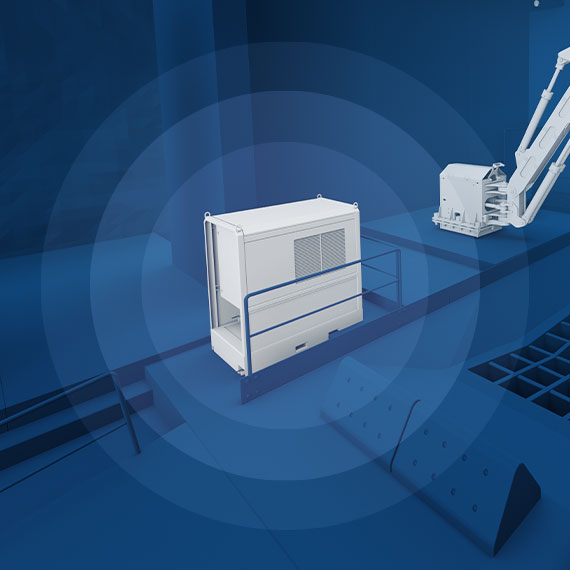 XROCK®

Boom System
A factory installed system for remote breaker boom operation which ensures safety and efficiency with high-quality features.
Boom Controller processes operator commands and drives hydraulic valves.
Safety PLC for emergency stop and safety functions.
High quality video and audio feed to Operator Station.
System Controller manages the remote connection between Boom System and Operator Station over the mine network.
Local radio remote controller enables boom control locally.
With XROCK Smart, boom position calculation and other advanced features are included.
XROCK®
Product Family
All the XROCK® product options are flexible and scalable according to your mine's needs.
Advanced options can be added to the products to further enhance the mine's operations.
Download our
General Brochure
Download our
Product leaflet
Peace of mind

for the future
Rambooms XROCK® harnesses the intelligence of automation to help business owners overcome the various challenges of today's mining industry and get more value from the resources in their mines. Additionally, XROCK® helps optimize operative processes, allowing you space and time to plan the actions needed for future growth in the most productive and precise way.